Boris Johnson's policy chief Munira Mirza resigns over PM's Savile remarks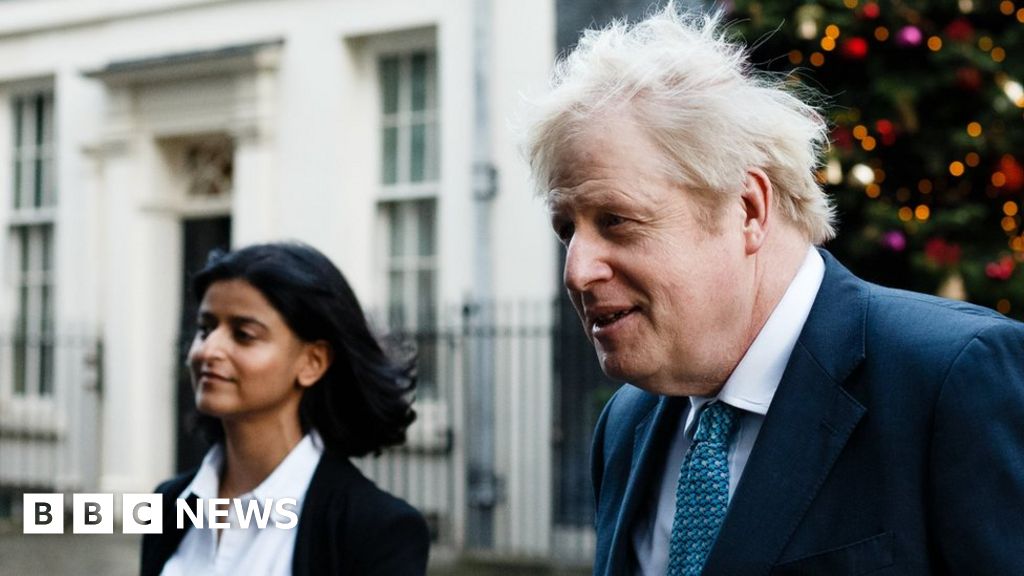 Image caption, Munira Mirza has worked with Boris Johnson since his time as London mayor
Boris Johnson's top policy aide has quit over the PM's false claim that Sir Keir Starmer failed to prosecute serial sex offender Jimmy Savile when he was director of public prosecutions.
The PM made the remark on Monday as he came under attack over Sue Gray's report on Downing Street parties.
He later backed down, saying said the Labour leader "had nothing to do personally with those decisions".
Another senior aide, Jack Doyle, has also quit as communications director.
Munira Murza said the PM he should have apologised for the misleading remarks.
In her resignation letter, published by The Spectator, she wrote: "You are a better man than many of your detractors will ever understand, which is why it is so desperately sad that you let yourself down by making a scurrilous accusation against the leader of the opposition."
Asked what he thought of the PM's remarks, Chancellor Rishi Sunak said: "Being honest, I wouldn't have said it, and I am glad that the prime minister clarified what he meant."
And asked if Mr Johnson should apologise, he said: "That's for the prime minister to decide."
No 10 confirmed her departure and that Tory MP Andrew Griffith had been named minister for policy and head of the prime minister's policy unit in the Cabinet Office.
A Downing Street spokesman added: "We are very sorry Munira has left No 10 and are grateful for her service and contribution to government.
"[We] will work across government and with MPs as we continue to deliver and expand on our ambitious policy agenda."
Sir Keir had a career as a lawyer before entering politics, rising to be the head of the Crown Prosecution Service.
On Monday, Mr Johnson accused him of spending "most of his time" as director of public prosecutions (DPP) "prosecuting journalists and failing to prosecute Jimmy Savile", despite having no evidence to back up the claim.
Disc jockey and TV personality Savile was revealed to be a serial sexual abuser after his death in 2011, having attacked hundreds of women and children at various locations including hospitals, schools and the BBC.
Media caption, Sunak on PM's Savile claims: "I wouldn't have said it."
At Wednesday's Prime Minister's Questions, the Labour leader hit back, accusing the PM of fuelling conspiracy theories with his remarks.
But Mr Johnson replied that Sir Keir had taken "full responsibility for what had happened on his watch" as the DPP.
By Thursday, Mr Johnson appeared to have backed down, telling reporters he had not been talking about Sir Keir's "personal record" when he was DPP, adding: "I totally understand that he had nothing to do personally with those decisions.
"I was making a point about his responsibility for the organisation as a whole."
Asked about Mr Johnson's latest comments, Sir Keir told BBC Three Counties Radio: "If the PM thought that, he should have kept his mouth shut."
Media caption, Speaking before Mirza's resignation, the PM sought to clarity his claims about Keir Starmer
In her resignation letter, Ms Mirza says the prime minister should have gone further and apologised to Sir Keir.
The political aide – who has worked with Mr Johnson since he became Mayor of London in 2008 – said the PM had been "wrong" to make the initial remarks, adding: "There was no fair or reasonable basis for that assertion.
"This was not the usual cut and thrust of politics; it was an inappropriate and partisan reference to a horrendous case of child sex abuse.
She added: "You tried to clarify your position today [Thursday] but, despite my urging, you did not apologise for the misleading impression you gave."
Labour's deputy leader, Angela Rayner, said the PM had "lied to the public in a very dangerous way", and with "no regard whatsoever" for Savile's victims.
And she said the resignation showed that "even people that have been close to Boris Johnson for a very long time have seen he is not fit to be prime minister and there isn't a depth he wouldn't sink to to make cheap points".
Mirza exit proves criticism coming from within
Analysis
by Ione Wells, BBC political correspondent
"I was making a point about his responsibility for the organisation as a whole."
This was the prime minister's defence for why he falsely claimed Sir Keir Starmer had failed to prosecute Jimmy Savile when he was director of public prosecutions, while Boris Johnson was under pressure to take responsibility for lockdown parties that happened in No10 – his organisation – as a whole.
To his critics, this was a stretch of the logic at best; inappropriate, insensitive and misleading at worst.
For Munira Mirza – one of his closest political allies and longest serving advisers – his lack of apology was enough to trigger her resignation.
Tory insiders have called it a "devastating" personal blow for the prime minister, sending a signal even those closest to him have "lost faith."
The last few weeks have seen a slow trickle of critiques of Mr Johnson's behaviour and calls for him to go from different factions of the Tory party – some less surprising than others.
But while she may not have the public recognition of some of those MPs, her resignation is proof the criticism also comes from within.
And, in her case, right from the heart of the PM's closest ideological circle.
The top aide's exit comes as Mr Johnson is facing growing questions over his leadership from his own party.
The BBC is aware of 17 Tory MPs who have submitted letters of no confidence in the prime minister, with a total of 54 needed to trigger a leadership contest.
Many have cited the PM's participation in Downing Street parties during Covid lockdowns as their motivation to challenge Mr Johnson.
But some of the most recent letter writers have also pointed to his false claims about Sir Keir, including senior backbencher and Defence Committee Chair Tobias Ellwood.
Ms Mirza began her career in the arts sector before becoming a cultural adviser to Mr Johnson as London mayor.
She then followed him into No 10, and was named the director of his policy unit in 2019.
In 2020, the PM named her as one of the five women who had influenced and inspired him the most, describing her as "capable of being hip, cool, groovy and generally on trend".
In a press conference on Thursday, Chancellor Mr Sunak called her "a valued colleague", adding: "I very much enjoyed working with her and I'm sorry to see her leave government. I'll miss working with her."
I'm a journalist who specializes in investigative reporting and writing. I have written for the New York Times and other publications.